Achu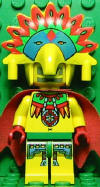 Appearances
Achu was a minifigure in the Adventurers theme. He is known as the guardian of treasures and tried to stop Johnny Thunder and Señor Palomar from getting the sun disk. He is from the Jungle subtheme. He is also refered to as neutral, because he was only trying to protect his treasure.
Accessories
Edit
Ad blocker interference detected!
Wikia is a free-to-use site that makes money from advertising. We have a modified experience for viewers using ad blockers

Wikia is not accessible if you've made further modifications. Remove the custom ad blocker rule(s) and the page will load as expected.