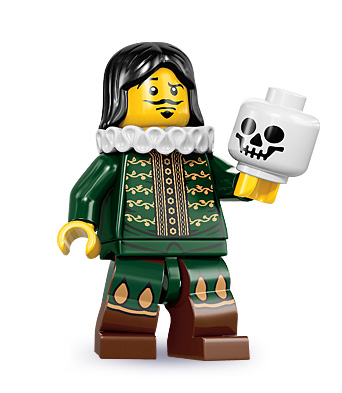 "To build, or not to build…that's not a hard question at all!"

The Thespian is a master actor, able to slip into any role you can imagine. He plays every
part to perfection, from Romeo to Juliet (the lead actress was ill, and the show must go on, after all…), and receives a rousing standing ovation after each and every performance. He's really good at celebrity impersonations, too.
The Thespian started his career as a minor background player on the old LEGO Studios set, but since those days his fame has really taken off. He constantly gets offers to appear in big-budget movies and television shows, but he always declares that heart will forever belong to the stage. Of course, as much as he enjoys acting, he does occasionally confess that what he'd really like to do is direct!
Ad blocker interference detected!
Wikia is a free-to-use site that makes money from advertising. We have a modified experience for viewers using ad blockers

Wikia is not accessible if you've made further modifications. Remove the custom ad blocker rule(s) and the page will load as expected.