Alfred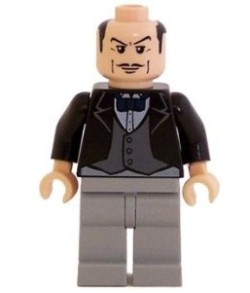 Appearances
Alfred
is
Bruce Wayne
/Batman's butler.
LEGO Batman: The Videogame Description
Edit
Alfred's full name is Alfred Pennyworth. His occupation is the Valet and Alfred's base of operations is Gotham City. He also features blue eyes and black hair (Thinning).
Alfred Pennyworth works for the billionaire Bruce Wayne and the most trusted ally of Wayne's alter ego, Batman. Alfred virtually raised the orphaned Bruce after the brutal murders of his parents and, though not related by blood, Alfred and Bruce Wayne are as much a family as any two people can be.
Attributes:
Former espionage agent, trained in intelligence and espionage
Trained in the martial arts
Expert rating with most weapons
Skilled actor
Training in emergency medical techniques
Computer proficient
Familiarity with mechanical systems
Expert in domestic sciences
Powers and Abilities: In LEGO Batman: The videogame, Alfred is a playable character in freeplay mode. He's as handy with his teacups and tea-tray as is with his fists!
Ad blocker interference detected!
Wikia is a free-to-use site that makes money from advertising. We have a modified experience for viewers using ad blockers

Wikia is not accessible if you've made further modifications. Remove the custom ad blocker rule(s) and the page will load as expected.