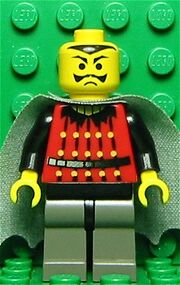 Basil the Bat Lord ​is a minifigure that was released in 1997. He is the leader of the Fright Knights. He is also in the video games LEGO Racers and LEGO Universe. 
Description
Edit
Basil's head has a mustache and angular eyebrows. He wears an exclusive bat helmet in black with wings on the sides. He wears a grey cape with the printing of a bat on the back of it. His torso is red with printings of yellow dots, a black line pattern, a silver line belt, and a small collar print made to look like bat wings. He has black arms and yellow hands, and grey legs.
He is referred to as Count BatLord.
Ad blocker interference detected!
Wikia is a free-to-use site that makes money from advertising. We have a modified experience for viewers using ad blockers

Wikia is not accessible if you've made further modifications. Remove the custom ad blocker rule(s) and the page will load as expected.