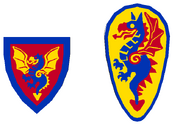 Black Knights was a Castle theme.
Backstory
Edit
They were looking for more land to conquer, so they attacked the land owned by Forestmen, Black Falcons, and Crusaders. After years of fighting, they won.
Equipment
Edit
They have several castles, like in sets 6059 Knight's Stronghold, 6086 Black Knights Castle and 6085 Black Monarch's Castle. They also had some vehicles such as the boat in 6057 Sea Serpent. They had two catapults, one from the 6059 Knights Stronghold, 1917 King's Catapult, and the 6030 catapult. Also the had a battering ram. Including lots of knights and foot soldiers.
First Years
The first well known Black Knights set was 6085 Black Monarch's Castle in 1988. It was the beginning of the Black Knights series. The enormous black castle was guarded by twelve knights, four on horseback. This was one of the first sets to include the Horse armor piece. Also, the triangular dragon shields were invented to represent the Black Knights. An interesting feature on the castle was the hinge piece used to open the drawbridge. In 1989, three Black Knights were included in the Knights Challenge set. Two more Black Knights sets were released in 1990, which were 6059 Knights' Stronghold, which featured a town gate, five knights along with a catapult, and the 6034 Black Monarch's Ghost, includes a lone knight, a small tower, and a ghost. These two sets are some of the last of the sets to carry LEGOLAND banners.
1992
In this year, The LEGO Group introduced the 6086 Black Knight's Castle that was originally called Dungeon Master's Castle intel 1994, when the name changed. The castle was raised on a large base plate. This particular set will be one of the best Black Knights set castles ever released. It included ten knights, a renegade Wolfpack prisoner, and a glow in the dark ghost. Like Black Monarch's Castle, it included the horse armor or barding piece. But the differences the Black Knights Castle had was that two of the four mounted knights had helmet visors, armor pieces and dragon plumes available in four different colors.
Last Sets
In 1993 four smaller sets were released that didn't appear in any catalogue. Instead, the sets from 1992 were still included intel the end of 1994 when the Black Knights ceased to exist as a proper Castle theme. 1993 also seen the introduction of the Dragon Masters theme, which used oval shields but the dragons were green instead of blue. The theme also reused the dragon plumes from 1992.
Ad blocker interference detected!
Wikia is a free-to-use site that makes money from advertising. We have a modified experience for viewers using ad blockers

Wikia is not accessible if you've made further modifications. Remove the custom ad blocker rule(s) and the page will load as expected.