Bruce Wayne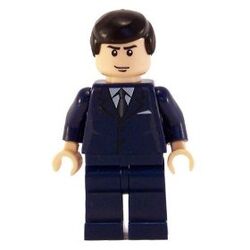 Appearances
Bruce Wayne
is a billionaire playboy who appears in the
Batman
theme. He is secretly
Batman
, and lives in Wayne Tower in Gotham City. He has a loyal butler named
Alfred
, and a sidekick named
Robin
.
LEGO Batman: The Videogame Description
Edit
REAL NAME:Bruce Wayne
OCCUPATION:CEO/Philanthropist/Crime Fighter
BASE OF OPERATIONS:Gotham City
EYES:Blue
HAIR:Black
After his parents were killed by a mugger, Bruce Wayne dedicated his life to fighting crime. Training himself to the peak of mental and physical perfection, he became the Dark Knight protector of Gotham City, Batman!
Attributes:
Expert in most known forms of martial arts
Trained in all aspects of criminology
Mastery of the physical sciences
Trained in stealth and espionage techniques
Powers and Abilities: In LEGO Batman: The Videogame, Bruce Wayne – Batman secret identity – will be a playable character in the Wayne Manor bonus level.
Ad blocker interference detected!
Wikia is a free-to-use site that makes money from advertising. We have a modified experience for viewers using ad blockers

Wikia is not accessible if you've made further modifications. Remove the custom ad blocker rule(s) and the page will load as expected.