Clone Trooper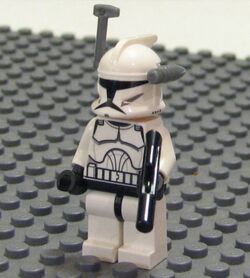 | | |
| --- | --- |
| Theme: | Star Wars |
| Release year: | 2002-Present |
| Similar: | |
Appearances
Appearances:

7163 Republic Gunship (2002)
4482 AT-TE (2003)
7261 Clone Turbo Tank (2005/2007)
7675 AT-TE Walker (2008)
7676 Republic Attack Gunship (2008)
7679 Republic Fighter Tank (2008)
7681 Separatist Spider Droid (2008)
7748 Corporate Alliance Tank Droid (2009)
Clone Troopers are in the Star Wars theme. They served the Republic, then became Storm Troopers and served the Empire. They are clones of Jango Fett. They are used in most of the battles the Republic was in. They are led by Clone Commanders.
Ad blocker interference detected!
Wikia is a free-to-use site that makes money from advertising. We have a modified experience for viewers using ad blockers

Wikia is not accessible if you've made further modifications. Remove the custom ad blocker rule(s) and the page will load as expected.