Darth Maul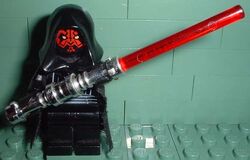 Appearances
Darth Maul was a Sith Apprentice to Emperor Palpatine. He was killed by Obi-Wan Kenobi, who cut his lower body off and made him fall into a deep pit.
Background
Edit
Darth Maul was the Sith Apprentice of Darth Sidious. He is of the same species as Eeth Koth and Agen Kolar (Zabrak). Darth Maul was trained to wield a double-blade lightsaber. He fought Qui-Gon Jinn on Tatooine, and killed him later. He was then killed by Obi-Wan, and the Darth Sidious chose Anakin Skywalker as his new apprentice.
Ad blocker interference detected!
Wikia is a free-to-use site that makes money from advertising. We have a modified experience for viewers using ad blockers

Wikia is not accessible if you've made further modifications. Remove the custom ad blocker rule(s) and the page will load as expected.