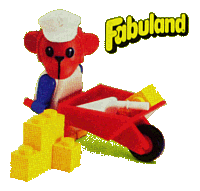 Fabuland is a LEGO theme. It was released from 1979 till 1989 spanning an entire decade.
Fabuland had a unique cartoonish look, and used large bricks specially designed for the theme. Young children could easily piece together buildings and vehicles from bricks such as walls and ceiling pieces. The studs on the bricks were regular-sized, but the bricks themselves were somewhat closer to DUPLO in size.
Fabuland was the first LEGO theme to have named characters and written stories. The larger sets included a story booklet, and standalone storybooks were sold. An animated Fabuland TV series was also made.
The Mickey Mouse theme from the early 2000s is very similar to fabuland in look.
Characters
Edit
Albert Albatross
Bernard Bear
Barney Bear
Billy Bear
Bulldog 1
Inspector Dogge
Buzzy Bulldog
Boris Bulldog
Barty Bulldog
Bulldog 6
Buster Bulldog
Bertie Bulldog
Rufus Rabbit
Robbie Rabbit
Bonnie Rabbit
Bonnie Bunny
Cornelius Cat
Cornelius Cat 2
Charlie Cat
Cathie Cat
Catherine Cat
Clover Cow
Kalle Crocodile
Clive Crocodile
Charlie Crow
Charlie Crow with aviator helmet
Dr. Dog
Elmer Elephant
Elton Elephant
Edward Elephant
Edward Elephant with yellow hat
Freddy Fox
Freddy Fox 2
Gertrude Goat
Billy Goat
Hannah Hippopotamus
Hannah Hippopotamus 2
Hannah Hippopotamus-LEGO Centre
Harry Horse
Harry Horse 2
Harry Horse 3
Lucy Lamb
Lucy Lamb 2
Lucy Lamb 3
Leonard Lion
Leonard Lion 2
Lionel Lion
Mike Monkey
Mike Monkey with Red Hat
Mike Monkey with Grey Hat
Monkey Mate
Chester Chimp
Gabriel Monkey
Oscar Orangutang
Marc Monkey The following Entries Come From Brickipedia.
Monkey eight
Maximillion Mouse
Maximillion Mouse two
Moe Mouse
Morty Mouse
Ad blocker interference detected!
Wikia is a free-to-use site that makes money from advertising. We have a modified experience for viewers using ad blockers

Wikia is not accessible if you've made further modifications. Remove the custom ad blocker rule(s) and the page will load as expected.