Firax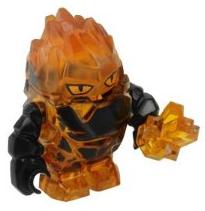 Appearances
Firax is a Lava Monster from the Power Miners theme. Firax is the same color as Firox, and is a melted version of him. He is also the most common lava monster from the theme.
LEGO.com Description
Edit
What happens when you super-heat a Firox rock monster at the Earth's core? You get an even trickier Firax to deal with. These mischievous lava monsters love to trap Power Miners and go for joyrides in their vehicles...unfortunately, they always melt the seats!
Accessories
Edit
Ad blocker interference detected!
Wikia is a free-to-use site that makes money from advertising. We have a modified experience for viewers using ad blockers

Wikia is not accessible if you've made further modifications. Remove the custom ad blocker rule(s) and the page will load as expected.