Frenzy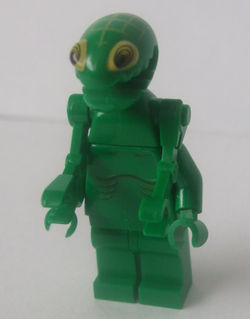 Appearances
Frenzy
is a
LEGO
Space Police III
minifigure. This minifigure is different then all of the other aliens in LEGO Space Police III because of his four arms. He has a normal body but has a head that allows him to add 2 arms to his structure.
LEGO.com Description
Edit
The four-armed space fink called Frenzy is tough, strong, and always looking for his next meal. Unfortunately For the law-abiding citizens of the galaxy, this space mantis-lizard will chew up anything, from asteroids to satellites, that he can get his toothy green jaws around. Hide your valuables when he's around because he won't just steal them-he'll eat them, too!
Vehicle of Choice
Edit
Lasering and Entering
Unlawful Meteor-Munching
Impersonating a Venusian
Accessories
Edit
Ad blocker interference detected!
Wikia is a free-to-use site that makes money from advertising. We have a modified experience for viewers using ad blockers

Wikia is not accessible if you've made further modifications. Remove the custom ad blocker rule(s) and the page will load as expected.