Futuron is a subtheme of Lego Space Released between 1997 and 1990.
The futuron are peaceful civilian astronauts, who are sometimes forced to do battle with the evil Blacktron organization. They were the replacement for Classic Space, and were released imediatley after it.
With over seventeen sets, it was one of the largest space factions.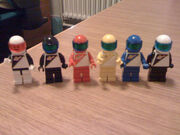 Minifigures
Edit
Ad blocker interference detected!
Wikia is a free-to-use site that makes money from advertising. We have a modified experience for viewers using ad blockers

Wikia is not accessible if you've made further modifications. Remove the custom ad blocker rule(s) and the page will load as expected.