Han Solo (Carbonite)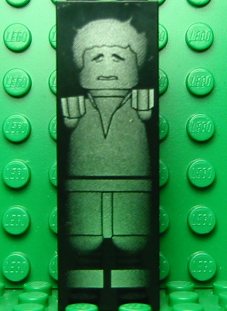 Appearances
Han Solo (Carbonite) is Han Solo when he was frozen in carbonite. He is only in 5 sets. He is made on a tall, 1 by 2 brick, with a Han Solo image painted on. There is a special device in the Cloud City set which "transforms" him into Han Solo and vice-versa.
Background
Edit
Han Solo was a smuggler from Star Wars. He got into debt with Jabba the Hut, who, when he could not pay off the debt, had Boba Fett freeze him in carbonite. Thus he was delivered to Jabba's palace, until Luke, Leia, and Chewbacca rescued him. Once unfrozen he got Carbonite sickness for a while, which prevented him from seeing.
Ad blocker interference detected!
Wikia is a free-to-use site that makes money from advertising. We have a modified experience for viewers using ad blockers

Wikia is not accessible if you've made further modifications. Remove the custom ad blocker rule(s) and the page will load as expected.