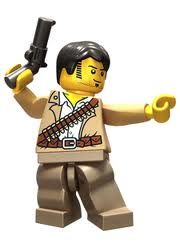 Jake Raines is one of the Pharaoh's Quest explorers. He was originally called "Jack Raines", but, after an incident on Eurobricks when thes was found out, they took down the web description and readded it, without mention of any character names.
Ad blocker interference detected!
Wikia is a free-to-use site that makes money from advertising. We have a modified experience for viewers using ad blockers

Wikia is not accessible if you've made further modifications. Remove the custom ad blocker rule(s) and the page will load as expected.