Knights' Kingdom II
was a castle subtheme introduced in 2004 and Discontinued in 2006.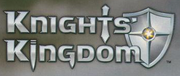 Content wise it has no connection to the first knights' kingdom theme, other than the general medieval setting.
The theme takes place in a kingdom called morica and it features several good knights: Jayko,Danju,Santis,Rascus and King Mathias. Who fought against the forces of the evil and his Shadow knights.
In 2006 six new knights where added to the theme:Sir Kentis,Sir Adric,Karzon,Dracus,The Rogue knights and the Valient knights.
Minifigures
Edit
Most of the minifigures in this theme also appeared in a larger form similar to Bionicle.
In 2006 Jayko replaced king mathias and was from then on called King jayko.
Ad blocker interference detected!
Wikia is a free-to-use site that makes money from advertising. We have a modified experience for viewers using ad blockers

Wikia is not accessible if you've made further modifications. Remove the custom ad blocker rule(s) and the page will load as expected.