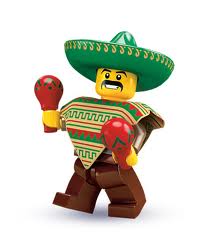 The Mariachi is a minifigure from Collectable Minifigures Series two. He come with a sombrero and a pair of Maracas.
Lego.com Description:
"Hear the music of the maracas!" Can you hear that? It may be hard to hear at first, but keep listening and soon you'll hear the sound of a pair of bright red maracas rattling out a fun and festive tune. That's how everybody knows that the Maraca Man is on his way!
When the Maraca Man dances through the street shaking his maracas, everyone around him finds themselves cheering up. Where he comes from is a mystery and where he'll go next is too, but whenever he's near, people smile, clap, and tap their feet to the beat!
Ad blocker interference detected!
Wikia is a free-to-use site that makes money from advertising. We have a modified experience for viewers using ad blockers

Wikia is not accessible if you've made further modifications. Remove the custom ad blocker rule(s) and the page will load as expected.