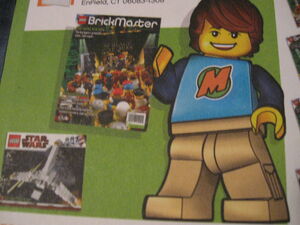 Max is the mascot of the Lego Club and brickmaster magazines. He also appears in every episode of the Lego Club Show. Max is currently available as a keychain.
An exclusive max minifigure was given to anyone who went to a Lego store during febuary 2010.
He is a Rank one networker on My Lego Network.
His MLN description reads:
Max is one of the coolest LEGO Club kids around! If you are a LEGO Club Magazine subscriber he'll hook you up with some awesome modules and badges. If you aren't a LEGO Club Magazine subscriber, what are you waiting for! Go to the LEGO Club section and sign up today!
His Lego Club Magazine description reads:
Name: Max
School: Brick U
After-School Job: Hosting LEGO Club magazine and LEGO Brickmaster magazine.
Favorite Things: Building with LEGO Bricks; Seeing new LEGO sets before anybody else; videogames; one-on-one hoop with Castle Trolls; hanging with astronauts.
Least Favorite Things: Getting lost in the rug; lunch with Mars Mission aliens; not having knees.
Favorite Food: Hamburgers at Cafe Corner.
Ad blocker interference detected!
Wikia is a free-to-use site that makes money from advertising. We have a modified experience for viewers using ad blockers

Wikia is not accessible if you've made further modifications. Remove the custom ad blocker rule(s) and the page will load as expected.