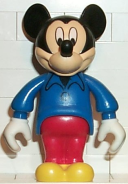 The Mickey Mouse minifigure is based of Disney's popular character of Mickey Mouse. He only appears in the year 2000 and in only a few sets then. He appears with his girlfriend Minnie Mouse and his pet dog, Pluto.
Mickey also appears in the 2000 released Lego Baby subtheme, Disney's Baby Mickey. This theme was very Duplo-esque. Only three Disney's Baby Mickey sets were released.
Mickey has appeared in a grand total of Eight sets.
Ad blocker interference detected!
Wikia is a free-to-use site that makes money from advertising. We have a modified experience for viewers using ad blockers

Wikia is not accessible if you've made further modifications. Remove the custom ad blocker rule(s) and the page will load as expected.