The mime is a minifigure in series two of the collectable minifigures.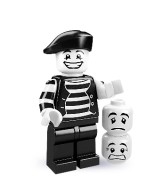 He comes with three different heads, a sad one, a happy one and a scared one.
LEGO.com Description
Edit
" " If you've ever been sure that somebody was silently following you and making silly faces, but nobody was there when you turned around, it was probably the Mime. He shows up in public parks, outside restaurants and in market squares, where he performs routines and does impressions of passers-by without ever making a sound.
No one pretends to be trapped in an invisible box or walking against the wind as well as the Mime does. His best pal is the Circus Clown, and the two frequently join forces to get even bigger laughs and applause from their audience!
Ad blocker interference detected!
Wikia is a free-to-use site that makes money from advertising. We have a modified experience for viewers using ad blockers

Wikia is not accessible if you've made further modifications. Remove the custom ad blocker rule(s) and the page will load as expected.