Robin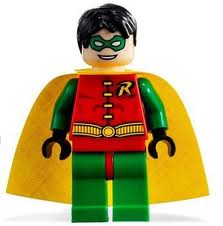 Appearances
Robin
is
Batman's
sidekick while defending Gotham City. He only came in the
Batman
theme.
LEGO.com Description
Edit
Robin, sometimes known as Wonder Boy, is Batman's crime-fighting partner. Young Tim Drake did what few others had – he figured out that Bruce Wayne was secretly Batman! Now, as Robin, he fights at Batman's side in their never-ending battle against the villains who seek to dismantle Gotham City.
LEGO Batman: The Videogame
Edit
REAL NAME: Tim Drake
OCCUPATION: Student
BASE OF OPERATIONS: Gotham City
EYES: Blue
HAIR: Black
Tim Drake has trained long and hard to fill the role of Robin, and is the third youngster to serve as partner to Batman. Through rigorous and constant training, Robin keeps his physical edge, which, along with his knowledge of computers, makes him a formidable foe of Gotham City's villains. Tim balances his activities as Robin with his schoolwork and friendships... but when the Bat-Signal lights the night sky, he is always ready to answer the call to action.
ATTRIBUTES:
Mastery of hand-to-hand combat
Mastery of fighting staff
Trained in stealth and espionage techniques
POWERS AND ABILITIES: In LEGO Batman: The Videogame, Robin employs a variety of suits, and even has his own vehicle in the fight against Gotham's foes. As Batman's trusted sidekick, Robin is the other half of the Dynamic Duo.
Accessories
Edit

Ad blocker interference detected!
Wikia is a free-to-use site that makes money from advertising. We have a modified experience for viewers using ad blockers

Wikia is not accessible if you've made further modifications. Remove the custom ad blocker rule(s) and the page will load as expected.