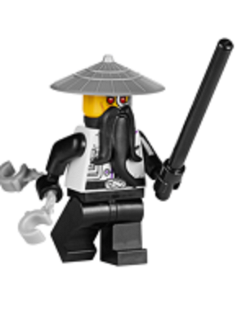 Sensei
Wu
is a minifigure from
Ninjago
. He is the teacher of the Four Ninjas:
Kai
,
Jay
,
Zane
, and
Cole
. He is a master of Spinjitu and in which his "Spinjitzu" is golden.
His weapon of choice is his staff of dragons and his elemental levels are balanced, unlike his brother, Lord Garmadon. Sensei Wu is a wise Spinjitzu master. Nobody knows how old he is. Only Sensei Wu himself and his brother knows how old he is.
Their father created Ninjago, and to help protect it, Sensei Wu trained four young ninjas in Spinjitzu. He is very strong...sometimes he strikes with his staff, other times, he uses wisdom.
In 2014, Sensei Wu joined the evil NinDroids.
Ad blocker interference detected!
Wikia is a free-to-use site that makes money from advertising. We have a modified experience for viewers using ad blockers

Wikia is not accessible if you've made further modifications. Remove the custom ad blocker rule(s) and the page will load as expected.