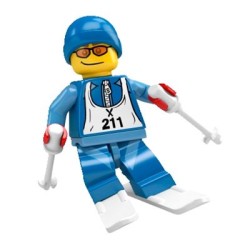 The skier is a Collectable Minifigures series two minifigure.
LEGO.com Description
Edit
"I'm going to make it this time!" The enthusiastic Skier is constantly plunging off cliffs, crashing into trees, and performing accidental loop-the-loops through the air. He can't help tackling any new downhill challenge that he comes across, even if his attempts don't always end so well!
What everybody likes about the Skier is that he never, ever gives up. No matter how many times his skiing feats end in wild disaster, he always climbs right back up the mountain, straps on his skis, and tries his luck one more time. After all, the fifteenth time might just be the charm!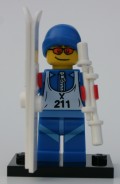 Ad blocker interference detected!
Wikia is a free-to-use site that makes money from advertising. We have a modified experience for viewers using ad blockers

Wikia is not accessible if you've made further modifications. Remove the custom ad blocker rule(s) and the page will load as expected.