Spartan Warrior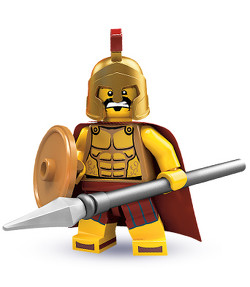 Appearances
| | |
| --- | --- |
| Appearances: | 8684 Minifigure Series 2 |
The Spartan Warrior is a Minifigure from the Collectable Minifigures theme. Almost every single piece is completely new. The nougat bronze cuirass torso, the leather skirt and sandal print legs, and the scowling bearded headpiece are all new additions to the Lego Universe. The spear, longer and more detailed than the traditional one, and the helmet are unique to this minifigure. A deep crimson cape compliments and completes the figure. And a black stand that comes with all of the Collectable Minifigures is, of course, included as well.
LEGO's Description
Edit
The Spartan Warrior's favorite thing in the world to do is fight. He keeps his spear, shield and crested helmet polished and clean at all times, just waiting for the next big battle to start. The problem is that there really isn't much of a call for ancient Spartan soldiers these days, so he mostly sits around and watches historical documentaries on TV.
Since he doesn't get to do much fighting, the Spartan Warrior tries all sorts of things to keep himself in fighting shape. He goes jogging every morning, swims at the pool in the afternoon, and even takes dancing classes at the nearby school to make sure he stays fit and trim for the next big battle!
Ad blocker interference detected!
Wikia is a free-to-use site that makes money from advertising. We have a modified experience for viewers using ad blockers

Wikia is not accessible if you've made further modifications. Remove the custom ad blocker rule(s) and the page will load as expected.