Sumo Wrestler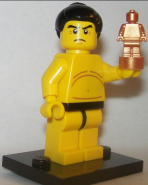 Appearances
| | |
| --- | --- |
| Appearances: | 8803 Minifigures Series 3 |
The Sumo Wrestler is a
Collectable Minifigure
intruduced in 2011.
He comes with a small bronze trophy.
LEGO.com Description
Edit
"I am sorry, but I must defeat you now."
The Sumo Wrestler has dedicated his life to the ancient art of sumo. He has earned the nickname "The Immovable Object" for his ability to stand perfectly still while his opponent tries to push him over or out of the sumo ring. He's recognized wherever he goes, and is always happy to stop and sign autographs for his many fans.
He may be big and strong (in fact, he's VERY big and VERY strong), but the Sumo Wrestler is also extremely health-conscious. He watches his calories, makes sure to get plenty of fiber in his meals, and always finishes his vegetables. Like he says, you can't get big and strong without taking good care of yourself!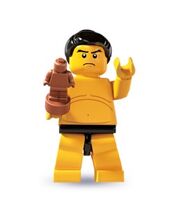 Ad blocker interference detected!
Wikia is a free-to-use site that makes money from advertising. We have a modified experience for viewers using ad blockers

Wikia is not accessible if you've made further modifications. Remove the custom ad blocker rule(s) and the page will load as expected.