Takeshi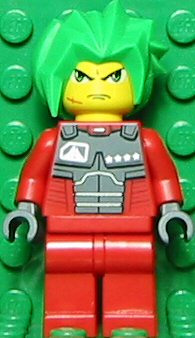 Appearances
| | |
| --- | --- |
| Appearances: | {{{Appearances}}} |
Takeshi
is a member of
Exo-Force
. His family, Yukio, Akina, and his little sister, Tamika was captured when the second robot rebellion began and later they then conquered the southern side of Sentai mountain.
LEGO.com Description
Edit
PERSONALITY Fierce. Strong. Brave. A little crazy. Not someone to mess with. Lives for one thing – smashing robots and their battle machines into tiny little pieces, and then smashing the pieces so that self-repair is no longer even remotely possible.
BACKGROUND Takeshi originally worked as a miner on the southern peak, alongside some of the very robots that are now rebelling. During the most recent robot invasion, he was separated from his family during the flight to the northern peak. He had no idea what happened to them or to his home.
This had the effect of making Takeshi extremely driven and reckless in combat. He took a lot of unnecessary risks, which worried his friend Hikaru. Finally, Hikaru flew solo across to the robot side of the mountain and rescued Takeshi's family, believing that was the best way to keep his friend from throwing his life away in a quest for revenge.
Takeshi was key to the human victory in the battle of Sentai Fortress. It was his daring plan that led to the defeat of the Striking Venom. Later, he went with Hikaru and Ryo in search of the golden city. His battle machine, the Grand Titan, was badly damaged during that adventure. But he found a new one, the Blade Titan, inside the Golden Tower, and has used that in combat ever since.
Takeshi has worked with Hikaru so much since joining EXO-FORCE that their original mutual loathing has given way to grudging respect, and finally to solid friendship and teamwork. Unlike Hikaru, he is much more likely to react instinctively and emotionally in a crisis, rather than relying on logic and planning.
QUOTE "This place is great! I can wreck as much stuff as I like and no one yells at me. I hope the robots try to ambush us again soon!"
FAVORITE BATTLE MACHINE Assault Tiger
Ad blocker interference detected!
Wikia is a free-to-use site that makes money from advertising. We have a modified experience for viewers using ad blockers

Wikia is not accessible if you've made further modifications. Remove the custom ad blocker rule(s) and the page will load as expected.