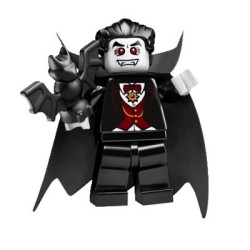 The Vampire is a Minifigure from Collectable Minifigures series two.
Lego.com description: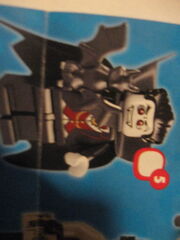 "I'm supposed to drink WHAT?!" The Vampire may be a 200-year-old creature of nightmare and legend, but that doesn't mean that he has to be uncivilized. He likes to read comic books with his pet bat, take long walks by the seaside (after sunset, of course), and throw huge parties in his big stone castle.
He's not a big fan of the more traditional vampire activities (though he has to admit that the flying is pretty cool), and much prefers a fruit smoothie to the classic beverage of choice. The local villagers might have been a little spooked at first, but now they're very excited to have a friendly vampire in town!
Ad blocker interference detected!
Wikia is a free-to-use site that makes money from advertising. We have a modified experience for viewers using ad blockers

Wikia is not accessible if you've made further modifications. Remove the custom ad blocker rule(s) and the page will load as expected.