Woody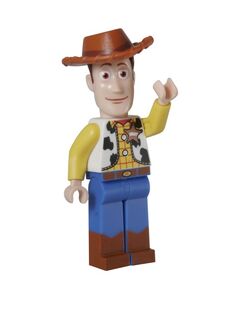 Appearances
Woody
is
Buzz Lightyear's
best friend and the main character in
Toy Story
. He is Andy's favorite toy, and appears in all 3 subthemes. He has longer arms and legs than a normal minifigure, making him the tallest minifig, and features a non-removable hat attached to his head.
LEGO.com Description
Edit
Woody (or Cowboy, as he is called by his friends) is the Sheriff of Andy's room. However, his status as Andy's favorite toy has been challenged several times after the arrival of a new and exciting toy: Buzz Lightyear. In times of trouble, Woody proudly reminded Buzz and the others about the fact that he has Andy's name written on the bottom of his boot - a signature like that is more worth than pure gold.

Woody is actually based on the main character from a popular TV show from the 1950's called "Woody's Roundup".
Ad blocker interference detected!
Wikia is a free-to-use site that makes money from advertising. We have a modified experience for viewers using ad blockers

Wikia is not accessible if you've made further modifications. Remove the custom ad blocker rule(s) and the page will load as expected.