X99 Robot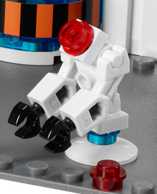 Appearances
The
X99 Robot
is a minifigure from the
Space Police III
theme. Like the
Space Police Robot
, not much is known about it. It is made up of bricks, not minifigure parts. It seems to have one sensor eye, two claws for hands, and one large, round disk on the bottom that allows it to hover. He is seen in the Space Police Central set.
Ad blocker interference detected!
Wikia is a free-to-use site that makes money from advertising. We have a modified experience for viewers using ad blockers

Wikia is not accessible if you've made further modifications. Remove the custom ad blocker rule(s) and the page will load as expected.