Zane is a ninja from NINJAGO. He is the Ninja of Ice, and he is very serious. His weapon of choice is the Shuriken of Ice. His hairpiece is blonde. He is also a robot (or "nindroid", as Jay prefers).
His LEGO.com description:
Ninja of Ice Weapon of choice: Shuriken Elemental color: White Strength: Stealth
Zane was cool, but now he's even cooler. He tamed the chilling Ice Dragon, unlocked the power of Spinjitzu, and even found a slick, Spinjitzu Dragon Suit.
Now Zane and his dragon are ready and will crush the Skullkins like an avalanche. He knows the Skullkins will fall to his ice attack, because he's seen the future…and he know he's already won.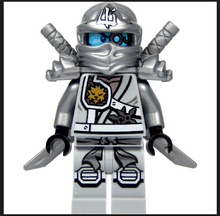 Ad blocker interference detected!
Wikia is a free-to-use site that makes money from advertising. We have a modified experience for viewers using ad blockers

Wikia is not accessible if you've made further modifications. Remove the custom ad blocker rule(s) and the page will load as expected.